Fall 2019 Opening Weekend
Thank you all for a great opening weekend. It was wonderful to see so many of you out there with your families on Saturday. If you missed this weekend, there's still 9 more games for each team this season, reach out to your coach and join in.
The club also wants to remind you of a few things.
First, only cleared coaches and players may be one side of the field. All families should be on the opposite sideline. There is now a map showing assigned areas for players. Biggest change is U6 coaches and players should always be closest to the hill so U6 family can sit next to those watching the U8/U12 games.
If anyone wants to get certified to help their head coach, please see the JKYSC website for details, it's about 4-6 hours of online training plus at least 2 days for the background check. The certification is good through Summer of 2021.
Also, please make sure guests know No Smoking and No pets are allowed at the field.
Also please use the concession stand as a lost and found. We also need volunteers to keep it open. You can use the sign up form below.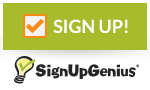 Get e-mailed when Spring Registration Opens
The club uses One Call for important announcements, and some coaches will use it as well for reaching out to their teams. So please make sure your information is up to date in Affinity and you are opted in to one call.